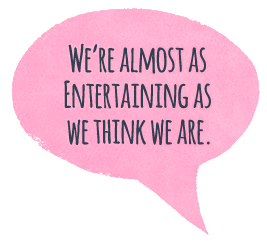 We love teaching people how to organize. Lesson #1? If it's hard, you're probably doing it wrong. Life's hard, organizing it shouldn't be. Our talks are insightful, enlightening, and entertaining — or at least the guy who I buy coffee from in the morning thinks so.
Corporate Lunchtime Talk:
Everybody is organized at work because … you HAVE to be. But often, homes fall short of the mark. We educate employees on how to better organize at work AND at home by using their personality type's natural tendencies to make life easier. Employee resource talks are our jam.
Organizing Kids Talk:
We teach parents and kids alike how to help children organize. Some kids are seemingly born with the ability to organize. Then there are the ones who would lose their head if it wasn't attached to their body. Regardless, no matter where your kids falls on this spectrum, we give you the essential tools for every child to succeed in school and beyond.
Seminars & Conferences:
We deliver keynote speeches and seminars on how to use your personality type's natural tendencies to better organize. Our talks range from 1-hour to 8-hours. Yes, we're so full of life changing information that you want to listen to us for an entire day.
Book Club Talk: 
We love talking to community groups — yes, you're a community if you have one of these groups! We do it via Skype, Google Chat or (depending on where you're located) in person. We teach you how to more easily organize and encourage everyone to come armed with organization questions/dilemmas.
Drop Us A Note to order or find out more about our rates and how this works.