What's Your Definition of a Messy Home?
Half-Assed Homemaking with The Pixies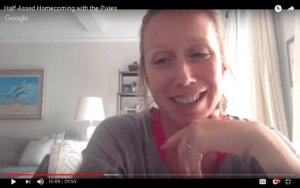 Yes we've finally done it… created our first podcast. We talk about retail subscription services and whether they'll trip some types up and what to do as a guest when your in-laws have old plastic protectors on the guest bed. What I'd like to know is whether you can tell how annoyed Kelly is with me throughout the whole podcast? We did it through Google Hangouts — Kelly in New York City and me in Cleveland, and could see each other as we did it. Kelly was clearly annoyed that I was still in bed and she at her desk in her picture perfect living room. I mentioned this and she tried to tell me that her house was not perfect, that there were toys scattered around out of camera view that had no homes.
I might have believed this bizarre claim if I hadn't just been at her picture perfect home in September. Sorry, but when it comes to half-assed homemaking we clearly have VERY different views on what's half-assed. But that's why we wrote a whole book about the different challenges of different personality types in keeping house. Yes, shameless plug, you can buy our book, Organize Your Way here. But even after writing this book I am still mystified by how naturally tidy Classic types like Kelly can look at their picture perfect homes and see a mess! If you want to see a mess then you need to come to my Organic & Smart Freedom home when I don't know you're coming. My home is organized, but the maintenance is the tricky part. Just don't have the energy or will to tidy up at the end of the day. And besides, my 5 year old will not be 5 forever and the older girls will soon be gone — only 3 and 6 years more — taking their daily messes with them.
Now I am verklempt at time passing, and at the prospect of an empty nest that is at least 13 years away. But still I wonder if one day I will miss their messes, the toys abandoned in the formal living room, backpacks and shoes left all over the house, clothes scattered on their bedroom floors, and the crumbs they leave in my bed — the only thing that truly bothers the hell out me — and I think, (sniff, sniff) that I will just miss the girls, not the mess, and especially not the crumbs!