Best Decorations for Fall
Fall is pretty much everyone's favorite time of year. Leaves are changing, we are donning comfy sweaters, your favorite shows are back on, and it's time to celebrate all the best holidays. So, what's not to love? What better way to get in an autumn state of mind than decorating your home? Here are some of the best ways you can get ready for Pumpkin Spice Season!
Pumpkin Spice Table Top Decorations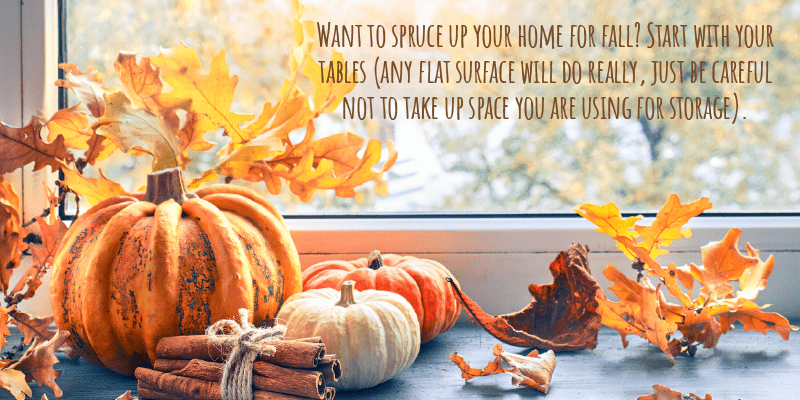 Want to spruce up your home for fall? Start with your tables (any flat surface will do really, just be careful not to take up space you are using for storage). To get started with your table display, start with the centerpiece. Get some branches of colorful fall leaves (real or artificial, whatever works for you!) and place them in a tall glass vase filled with water or decorative stones. From there, you can start building out the rest of your masterpiece. Take your friends and family to the local pumpkin patch and get a nice array of seasonal gourds in a mix of colors, sizes, and textures for variety. You can either arrange them on the table or place them in a glass cloche. After you have your gourds, move onto another fall favorite- pinecones! We recommend using bleached pinecones as they look more festive. Add a potted plant to the arrangement for additional texture. On the remaining surfaces in your home, place small gourds around the larger items you have on display and accent with colorful fall leaves and candles.
Short on space? Simplify your centerpiece by taking a large round or oval container and filling it with potting soil. Plant a mix of succulents in the center of the bowl, leaving some space around the edges. In that space, place small orange and white pumpkins onto the soil. Add in some seasonal vegetables like kale, radishes, and eggplants. Use bundles of fresh herbs like rosemary and sage to fill in any empty spaces. Accent around the container with gourds and votives.
Ready to go all out with your festive fall centerpiece? Take three bowls of varying sizes and place wet floral foam in each bowl (heads up you'll probably need to trim these to make them fit). Make sure the top of the foam is even with the top of each bowl. Once you've got the foam fitted and placed, stack the bowls on top of each other with the largest on the bottom. Take some florist picks and secure white pumpkins to the foam in an asymmetrical arrangement. Once those are attached, take berries like brunia and do the same thing. Taking it one side at a time, fill in the spaces with other seasonal herbs and foliage. If you so choose, you can create smaller accent pieces with single bowls, sprigs of herbs, and individual pumpkins. Next, get a job at Better Home and Garden because clearly, you've got the skills and qualifications.
Copper is the New Black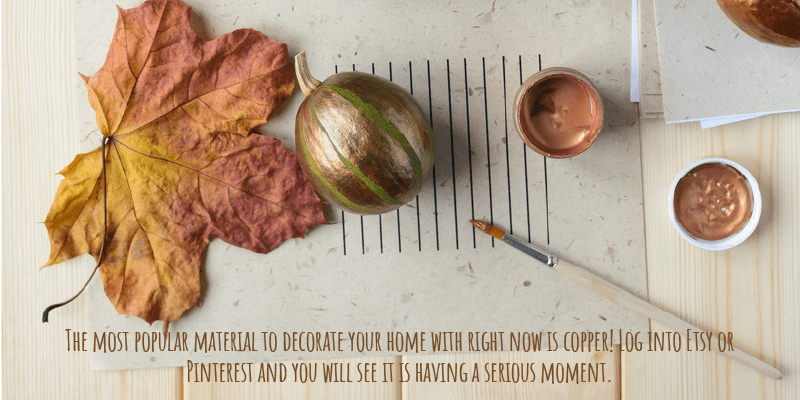 The most popular material to decorate your home with right now is copper! Log into Etsy or Pinterest and you will see it is having a serious moment. Use handcrafted copper as a vase for fall flowers or branches and leaves. It gives your home a fun, farmhouse vibe while still looking incredibly chic. You can polish the copper if you want to maintain that new-penny shine or leave it alone and let it take on a rich, verdigris patina over time for a rustic look. Natural elements and textures that are typical in autumn decor (like branches, leaves, pinecones, etc) make a beautiful contrast to the metal. Get some copper votive holders to accent your centerpieces, or even copper candlestick holders. Copper bowls and picture frames make lovely rustic glam decor all year round.
How to Store Your Decor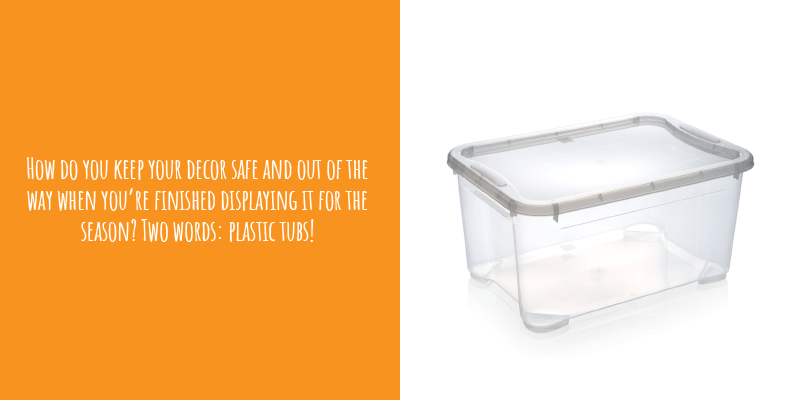 How do you keep your decor safe and out of the way when you're finished displaying it for the season? Two words: plastic tubs! These work great, especially if you're storing delicate items in the garage as a plastic tub will help to protect them from the environment. Even if they are clear, be sure that everything is labeled correctly so you know what exactly you're pulling out when the time comes. You don't want to get your copper vases and brunia berries mixed up with your Fourth of July flags and yard signs! Not a fan of clear bins? These opaque bins from Amazon can work for Classics and Funs. More open transparent ones are best for Organics and Smarts. If you're really short on space try storing smaller items inside larger items. This way you are able to pack more into each bin and it helps to secure the items so that they won't rattle around as much.