You know you need to get organized, and maybe you have even taken our quiz to figure out what your PixieType is. But where do you start? What do you need to actually get organized? Below are a few of our favorite things we recommend to clients!
Keeping All Your Closets Sorted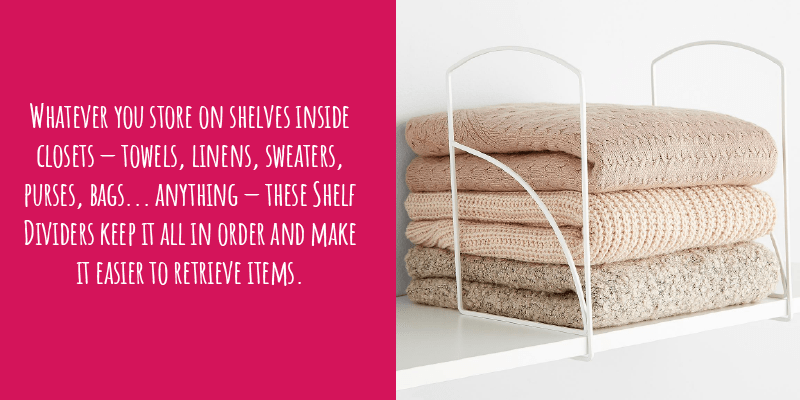 You can spend a pretty penny on a contractor building you a custom closet but nothing gives you the bang for the buck like Elfa Closets at the Container Store. It's our go-to solution for clients because it's customizable, changeable and easy to uninstall — seriously, I've uninstalled my fair share and I'm not exactly a master handymen. What is more, the Container Store saves your Elfa closet plan so that you can reuse parts if you move or want to change things up. This means this closet system makes sense for owners and renters alike. You could bring it with you to your new place, returning to the Container Store for them to re-customize a new closet for your new digs using your existing parts and then adding anything that is missing. It's kind of amazing. Frugal Classics, Funs, and Organic Structures will love the practicality of this system. If you're searching for a higher end appearance, check out their deluxe options.
Whatever you store on shelves inside closets — towels, linens, sweaters, purses, bags… anything — these Shelf Dividers keep it all in order and make it easier to retrieve items. If you're looking to keep your pantry or linen closet together the Utility Extra Wide Stackable Plastic Bins are modular, stackable, versatile, durable and affordable. They're great for all types and make it easy to grab things and see them. We also love the Montauk Open-Front Bin. There are variations of the same things on the market BUT these have some opaqueness and thus more appealing to Classics and Funs because of it. Even the most amazingly designed kitchen can STILL benefit from shelf risers for your pantry. All shapes and sizes. Buy a bunch of them. Until you're done reorganizing, you'll never know which ones will come in handy. Then return the rest.
But what happens if you run out of room in your closet? As much as we all try to fight it, storing things under your bed happens. The trouble is that when you innocently start doing it, then you do it willy-nilly and soon you can't easily get to the things in the middle. Then you forget about those things and then they collect a whole heck of a lotta dust. Plan for the inevitability of under bed storage by buying these Underbed Boxes with Wheels. They're awesome because their bendable lids mean you don't have to pull them all the way out to get to half of the contents and they're on wheels so they easily roll out. Gosh do we love these.
All Your Labeling Needs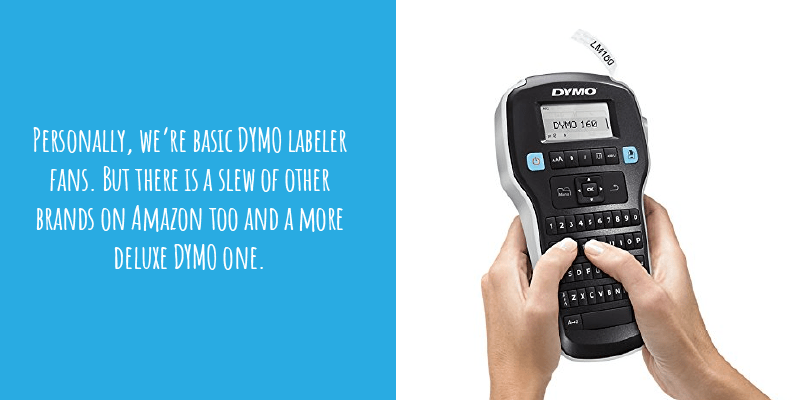 Various Etsy small shops are where we go for labels or gift tags. We most often label bins in closets with these. Etsy small shops are also a good source for sticky labels for shelves or walls. Organics and Smarts will most appreciate these. Classics and Funs might like them but also might just be fine with more utilitarian label maker results. Personally, we're basic DYMO labeler fans. But there is a slew of other brands on Amazon too and a more deluxe DYMO one. We don't have these precise ones because ours are ancient, but then that's a good sign if ours are still working! Fine point ink pens are great for writing on tags. But a fine point Sharpie works too.
Once you've got your label maker, what should you start to label? Take it into your home office and start with all your stacks of papers. We spend a lot of time telling Organics and Smarts to get transparent bins for their myriad paper piles. These acrylic Stacking Letter Boxes are just one permutation of what we mean. They should be used in conjunction with other bins and never stacked as they are pictured on the Container Store's Website.
Double Hooks for Everyone!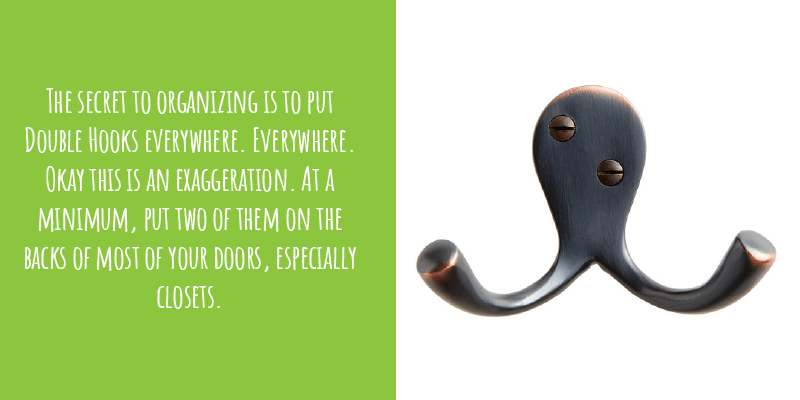 The secret to organizing is to put Double Hooks everywhere. Everywhere. Okay this is an exaggeration. At a minimum, put two of them on the backs of most of your doors, especially closets. Organic Freedoms and Smart Freedoms should follow this advice and also put hooks everywhere they tend to frequently disrobe and leave articles of clothing. This prevents ye ol' bedroom chair from becoming a mountain of clothing, or at least keeps it to a hill of clothing.
If you can't nail double hooks to the wall, we always recommend going with the tried and true Command Strips. You can still get the benefits of a hook without damaging the walls of your rental unit!