Putting Together the Perfect Bookcase
You've memorized your Pinterest board front to back and you're ready to organize your bookcase accordingly, but where to begin? The best way to start is just by pulling everything off the shelves. This may seem counterproductive but this is truly a "have to get worse before it gets better" kind of project. Sort books by subject, size, or color. Separate out any worn-looking paperbacks and any of those old textbooks you bought in college but never sold back to the bookstore. Next take a look around your house for any vases, plants, or knick-knacks you want to display in this space.
Now that everything has been cleared off your bookcase, consider whether or not you want to paint or add wallpaper to the backs of shelves. This will add nice depth as well as a pop of color. For the maximum impact, go with a shade that's darker than shelves themselves!
You've got everything cleared off and the bookcase is painted and ready to go, and now for the daunting part. How do you put everything back together again? That will depend on how you want to use your new bookcase.  
For the Bookworms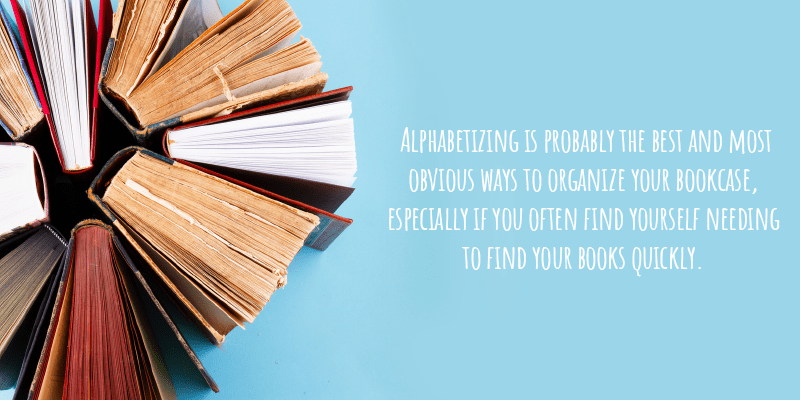 If you're a bookwork, you're going to be using this space for function over form. You'll need to know where everything is and where to grab it when you need it. Even though you're not using your bookcase for decoration, that doesn't mean you have to sacrifice on style! Here are a few different options for organizing all of your books:
Alphabetize: Alphabetizing is probably the best and most obvious ways to organize your bookcase, especially if you often find yourself needing to find your books quickly. You can steal the idea from your local library and alphabetize by the last name of the author, or switch it up and sort them by title. The choice is all yours!
By Color: Even if you are filling your entire space with books, you can still make it look Pinterest worthy! If you really want to make the room pop, try sorting your books by color! You have a lot of options here so feel free to experiment. You can arrange them into some type of pattern, or actually covering your books with wrapping paper so that different sections are clear. The only problem with this method is that, unless you have a visual memory, it can be difficult to remember what color the book you're looking for is.  
Pinterest Worthy Bookcases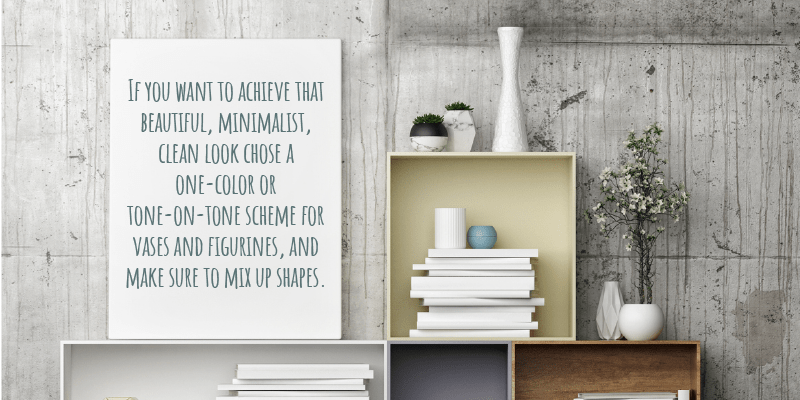 Trying to get that Pinterest-perfect bookcase of your dreams? You have to resist the urge to pack every accessory you own on the shelves. If you want to achieve that beautiful, minimalist,  clean look chose a one-color or tone-on-tone scheme for vases and figurines, and make sure to mix up shapes. Struggling to get it just right? Step back to assess as you work through the placement of your items. Put items off-center, or try larger or smaller ones until you like what you see. Group together a small set of books that are similar sizes leaving lots of open space on shelves to let the accessories shine through. To add a little interest and variation to your bookcase, try alternating stacks of books horizontally and vertically. If you're still struggling with placement trying using your accessories as bookends. Bold-color accessories and picture frames make great bookends and look great on the shelves! You can also use heavy, sturdy accessories as a bookend to keep shelves neat and organized. Not only do bookends make it look great they are also useful as it comes in handy for paperbacks and slimmer books, which can be very difficult to keep upright.
Keeping your bookshelf in your home office? Stylized bookcases are a great way to keep your workroom put together and organized. Place magazine holders on open shelves to hold mail and loose papers, or decorative storage boxes to conceal clutter and add a nice pop of color. Use containers and unique flea market finds to finish it off. You can even throw in a couple of plants. Try to keep your room tied together by carrying the color scheme onto your bookshelf. It will give your office a sense of unity.
Now that you've gotten everything where you want it to be, take a step back and ask yourself a few questions. Are there three big moments- top left, middle right, and bottom center? Do the shelves look generally full? Is it too busy in one area and too empty in the others? Does one item stick out like a sore thumb? Adjust accordingly until you are happy with it.
Trying to organize more spaces in your home but don't know where to start? You can purchase our book on Amazon HERE! Not sure what your Pixie Personality type is? Take the quiz